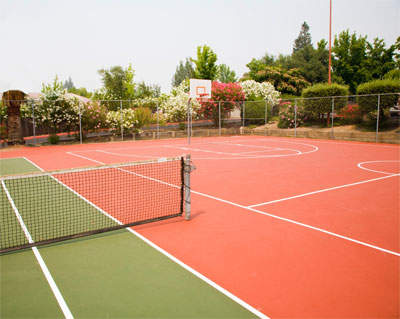 The importance of healthy life-style is often emphasized nowadays, so it is only natural that demand for multi-purpose pitches is growing steadily. Among the groups with greatest interest in multi-purpose grounds are municipalities and schools, since they offer an economical way of providing a multitude of diverse sports activities within one facility.
From the technical point of view, the construction of a multipurpose artificial turf provides a real challenge – tennis is played on harder and lower surface, while football requires softer turf with longer grass blades. To accommodate the diverse needs of different sports, it was necessary to invent a technology, which allows to meet their required playing characteristics.
After a difficult development, it was possible to accommodate these attributes surprisingly well and that is the reason we can offer you multipurpose synthetic turfs that go beyond maintenance benefits or all-weather playability. Our artificial turfs are designed to include safety features, shock absorbency, low abrasion, suitable speed, stable footing and required ball traction.
In our offer, there are variations of economical multipurpose products, infilled with sand and laid over rubber pads, which offer basic systems for recreational level sport. More advanced systems, costing more initially, reward both owners and users with longer life-span and better performance.