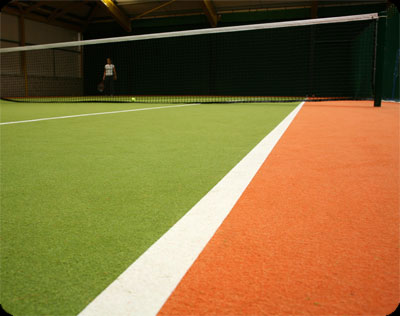 Originally, the game of tennis was played exclusively on natural grass. Nowadays, you will find this type of tennis surface increasingly rare, because it is so expensive and has a very low durability. Later on, the clay courts have seen the light of the day. This favourite type of tennis surface is commonly used, although its maintenance is very demanding – the surface needs to be levelled and watered after each game, there is a necessity of regular servicing of the courts etc. Although the concrete tennis courts go past the problem with maintenance, they suffer yet another illness – their surface is unpleasantly hard and, consequently, very demanding on players' health.
Modern artificial tennis surfaces pose an excellent solution to all these problems. By utilising a combination of high-quality grass yarn and silica sand, a tennis surface with optimal sports characteristics was created – similar to those of a clay court. The artificial fibres lend the surface their elasticity while being stabilised by the silica sand support base. But the sand between the artificial fibres remains movable and therefore allows the player to slide to the ball, as is commonplace in case of a clay court. In addition, this type of tennis surface features a long durability with only minimal servicing needs.
An even better solution is currently the most modern and best tennis artificial surface - PU CLAY, which fully replaces clay.
PU Clay provides a number of benefits:
equally adapted for every season
is usable year round
does not leave ball marks
water permeability, breathable surface
can be installed on an existing tennis surface
low cost of construction and reconstruction
excellent non-slip properties, protects your joints and ligaments
suitable for barrier-free tennis
low maintenance
longer life
| | Standard clay court | PU CLAY |
| --- | --- | --- |
| Comfort | Maintenance of approximately 5 hours per week | Maintenance of approximately 1 hour per week |
| Regular maintenance | Approximately 120 days a year | Does not require regular maintenance |
| Hardness | Good, as long as it is well watered | Always regular, flat surface |
| Bumps | Without bumps, if the surface is dry | Always a regular surface, the ball bounces evenly |
| Life | cca 10 years | cca 20 years |
| Spring maintenance costs | cca 1100 – 1600 EUR | cca 150 – 200 EUR |